Luxury gift ideas for the new Mom or expecting Mom
We are so excited to put together some of our favourites gifts and ideas for expecting and new Moms. Being pregnant can be quite the challenge for most women so it's a lovely time to try spoil those women you love and get them something they will really cherish. The list of ideas are endless but here's just a few of our favourite go to brands and gifts we think they'll love!
Fashion Bug Blog x Soru
These earrings are serious fashion accessory goals. Ever since Kurt Geiger brought out their rainbow bag we've been lusting after rainbow accessories. These earrings are the perfect gift for any new mom or mom to be. Who doesn't want to feel special and dressed up and these will make any outfit look amazing! It doesn't hurt either that we think the Fashion Bug Blog is so fab and we want everything she owns!! You can buy them here.
Luxury black maternity dress from Seraphine
Who doesn't need a gorgeous little black dress? This one from Seraphine is stunning! It has a really nice complementary shape and is made from a really beautiful stretch knit fabric. Seraphine is a wonderful brand to check out for maternity fashion. You can purchase the dress from Seraphine here.
Zara studded print sneakers
Whether you're a new mom or an expecting mom you can never have enough trendy trainers. I love them with jeans or leather look leggings or they are fab with dresses too! These ones from Zara are fab and really affordable. Who doesn't love a good excuse to browse the Zara website too! You can buy them from their website here.
The Bow & Rattle Berry bag
Ok I know it's one of our own but we really do adore this one! It's such a gorgeous luxury bag and works so well with any outfit. Navy is a really complimentary colour and what new mom doesn't want her own gorgeous baby changing bag to call her own. Plus it's super practical with it's detachable organiser insert, a padded wipeable changing mat, a clear plastic pouch and a thermal bottle warmer. Plus long and short straps for whatever you prefer! We think it's a winner!! You can buy it here on our website!
POCO by Pippa Mama to Be Black Jeans
Jeans for the Mama-to-be who doesn't want to compromise on style to be comfortable. These maternity jeans will see you through from the very beginning of your pregnancy and even after your baby is born. We love the black pair as they work with everything and will transition perfectly from day to night. Pippa is the ultimate gorgeous mom and she certainly knows how to make some amazing jeans! Plus she has some fab candles and planners too that would make a lovely gift for an expecting or new mom. You can check them out and buy them here from her website.
The White Company Boho Pyjama Set
We are pretty much obsessed with all things The White Company these days and there really is nothing nicer than the gift of new Pyjamas so these are the perfect match. They make the most amazing quality gifts and will be lovely from maternity to after if you size up. The White Company also do some beautiful lotions and candles and have the softest white robes out there you will find. They have a sale on selected items now too including these lovely PJ's so don't delay! You can find these and more gorgeous items on their website here.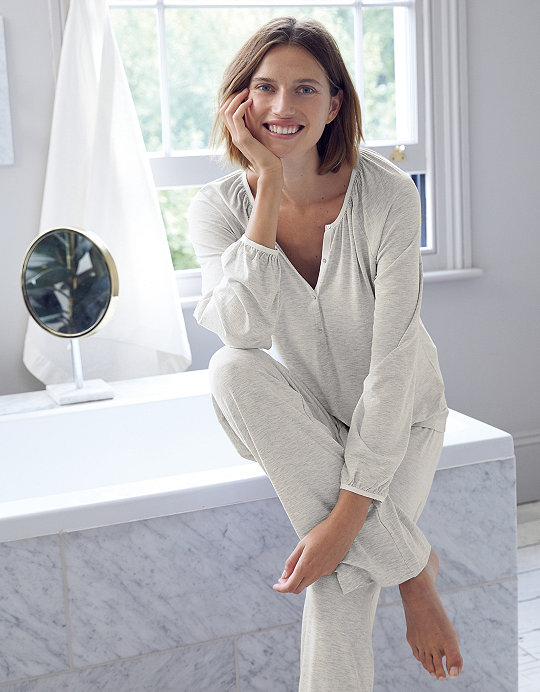 Vita Liberata Self Tanning Gift Set
Whether you are a new mom or a mom to be there is no one who can't do without a little tan to give them a lift and feel a little brighter, particularly at this time of year. This is a gorgeous gift set from Vita Liberata. It's a favourite with so many of the celebs and the top bloggers. The Body Blur that comes with the set is one of those desert island products. It goes on really easily and looks amazing. The set comes with a really good quality mitt and a lovely pouch that would be handy for storing all your tan if you are travelling. You can buy the Christmas gift sets here.
Jo Malone Candle
There isn't a brand more opulent and lovely. Jo Malone make the most beautiful gifts for any lady in your life. There are so many amazing scents to choose from whether it's in their perfumes, their home scents or their lotions. Personally our favourite is the Peonies! Their candles make the most beautiful gift and they arrive in stunning packaging. The perfect gift for any of the moms in your life. You can buy them in Jo Malone retailers and in Ireland online at Brown Thomas.